Online Learning Support Faculty
Faculty Support for Moving Courses to Online Formats
Modalities for teaching in Summer have been determine and you should now have a plan for how to deliver your course for Fall 2020. 
Please regularly check your Webster University email for updates since all affected faculty are communicated to directly through email.
To assist you with planning, we ask that you explore the following support offerings. We ask that faculty utilize these resources before calling for individualized support or training.
Online Knowledge Center
The Knowledge Center has been created to assist faculty as they transition from teaching a face-to-face class to teaching remotely.  It includes full tutorials on Canvas, WebEx, and other solutions for teaching online.  The center is available at:
https://worldclassroom.webster.edu/courses/1346121
You must log into WorldClassRoom to access this knowledge center.
Live Instructional Support
Live virtual "Open Office Hours" are available are offered most days for training, testing, or just for questions.  For available hours and to access, go to the Webster Knowledge Center and clicking on Zoom in the course navigation menu, under Home.
We regularly deliver sessions on specific topics and that information can also be found the Knowledge Center here: https://worldclassroom.webster.edu/courses/1346121/pages/presentations-and-open-office-hours . For information on sessions, latest hours and support materials please head to the Webster Knowledge Center here. Don't have access? No problem. Email olc@webster.edu with your Connections ID, all Webster faculty will be added.
---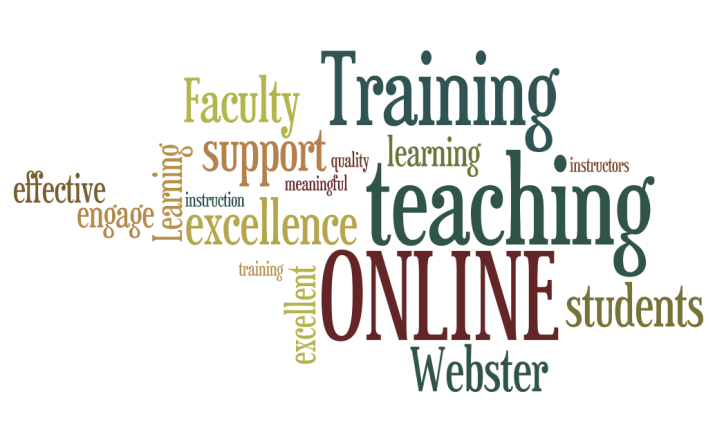 The Online Learning Center (OLC) is committed to supporting the ongoing teaching and learning in Webster University's online courses. The same highly qualified faculty who teach for us in the classroom teach our online courses. They are experts in their fields, and contribute not only their content knowledge but also their international experience to the education of our global student body.

Instructors need to be well versed in the technology and the pedagogical aspects of teaching and learning online. To this end, we provide training for new online instructors, support for continuing instructors, and instructional design and development of online courses. Click on one of the links to the left to find out more information for online instructors at Webster University.